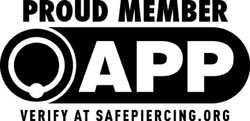 Sara has been piercing since 2008 and has been an APP member since 2018. She really loves having the opportunity to work with clients and be able to make their piercing ideas and inspirations become a reality. Sara loves helping clients who may be unsure of what their next piercing may be by seeing what they already have and what goes with their anatomy and personal style! Sara has been attending APP conferences since 2010 to stay current with the most up to date information to help her clients with anything they may need.
Joanna has been a professional piercer since 2016 and has been with Identity since 2019. Jojo went to the 2019 Association of Professional Piercers conference and likes to stay up to date in all piercing techniques as well as all the cool jewelry trends! Can't think of what to get? Let Jojo decorate your ear! Whether it's adding some unique piercings to your ears or upgrading your existing jewelry Jojo's got you covered!
Z has been collecting jewelry for her piercings from Identity for over 5 years. Now you can find her at the jewelry cases to guide you through all the sparkly selections we carry! Z also applies tooth gems and loves to create fun designs to brighten your smile!
Identity first opened its doors in 2013 as Chicago's premiere piercing-only studio. Dedicated to the art of body piercing and fine jewelry, Molly wanted to create an environment where you could create your own identity through adornment. By hiring only the most dedicated and experienced piercers, Identity can provide professional expertise while maintaining a personal experience. Identity's piercers are constantly continuing their education by attending Association of Professional Piercers conferences and researching gemstones and gemology. The studio carries jewelry from all over the world, featuring several different emerging and established jewelry artists. Each year, Molly travels to meet new artists to feature in studio. If you don't find what you're looking for in the shop, the artists will make it for you!
Molly launched Identity's in-house jewelry line, Moll Doll Designs, in early 2018 to give their clients even more options. Everything from this line is hand-made by Molly in the studio. Moll Doll Designs specializes in rare gemstones and metal smithing and offers custom ordering so you can create your own designs as well. Identity's goals are to create a clean, safe environment for body adornment and to provide the largest, most unique and customizable selection of body jewelry possible.