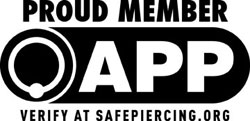 Identity first opened its doors in 2013 as Chicago's premiere piercing-only studio. Dedicated to the art of body piercing and fine jewelry, Molly wanted to create an environment where you could create your own identity through adornment. By hiring only the most dedicated and experienced piercers, Identity can provide professional expertise while maintaining a personal experience. Identity's piercers are constantly continuing their education by attending Association of Professional Piercers conferences and researching gemstones and gemology. The studio carries jewelry from all over the world, featuring several different emerging and established jewelry artists. Each year, Molly travels to meet new artists to feature in studio. If you don't find what you're looking for in the shop, the artists will make it for you!
Molly launched Identity's in-house jewelry line, Moll Doll Designs, in early 2018 to give their clients even more options. Everything from this line is hand-made by Molly in the studio. Moll Doll Designs specializes in rare gemstones and metal smithing and offers custom ordering so you can create your own designs as well. Identity's goals are to create a clean, safe environment for body adornment and to provide the largest, most unique and customizable selection of body jewelry possible.
Nathaniel Tinker has been piercing since 2014, and with Identity since 2016, and our Head Piercer since 2018. When he's not piercing at Identity, he enjoys traveling to pierce at other reputable studios around the country. Nathaniel attends the Association of Professional Piercer's conference yearly, we he also volunteers as a Conference Mentor. He's a fan of all piercings, but especially loves doing nostril, conch, and daith piercings. Nathaniel loves to combine color schemes of various semi precious gem stones and textures of solid gold to give you a completely unique aesthetic.
Madison is our female piercer on staff, has been piercing professionally since late 2015. She specializes in personalized ear styling sessions- using her artistic eye to intertwine the worlds of fine jewelry and body piercing. Her favorite services to perform are nostril piercings and forward helix piercings. She has extensive experience working with children for their first ear piercings! She stays up to date on the most recent piercing techniques and practices by attending the Association of Professional Piercers conference every year. Out of our specialty jewelry, her favorite gemstones to pierce with are rainbow moonstone and amethyst!