One of our favorite natural gemstones we've been showcasing is MOONSTONE! This stone typically has a milky quartz appearance with flashes of blues and purples. This gemstone is typically used for healing and balancing purposes. Most of our clients pick it out since its a more exciting natural stone, but still very neutral to match with other pieces and colors.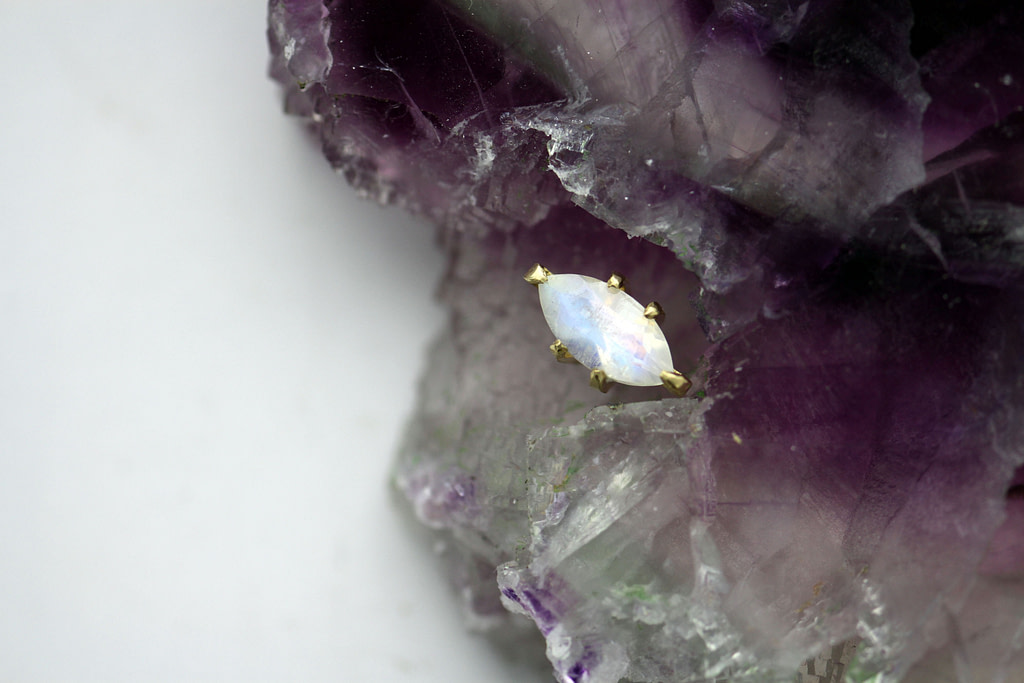 In Hindu tradition, this stone is associated with divine feminine principle and is considered a symbol of love. Ancient cultures in India as well as Celtic tribes in Europe loved the dreamy tones of this stone and it quickly became a favorite! Most believe it got its name for its mystical glowing appearance, much like our moon in the sky.
Today, we love using moonstone in multiple jewelry settings! It's such a fantastic stone on its own, a simple bezel setting showcases it enough. Its colors almost give it a watered down opal look. In a multiple gem setting, this stone looks fantastic with cool jewel tones like sapphire and amethyst. Other stones can make its colored highlights pop! Since the stone has historically been associated with the heart chakra, its a fantastic choice for a unique engagement ring as well.


We can get this incredible stone typically as small as 2mm, and as large as you like! It's colors look especially brilliant with a rose-cut finish. Ask our piercers or jewelry specialists about our current stock of moonstones- we have them available in barbells, curves, hoop, earrings and more. Stop in to curate your set today or shop the webstore- you will not be disappointed by this dreamy stone!
Thanks for reading!
xox Molly