We'd like to talk about threadless jewelry. You may notice browsing our web store lots of terms like "threadless top" or "threadless labret." This style of jewelry has become not only our favorite, but our clients favorite as well!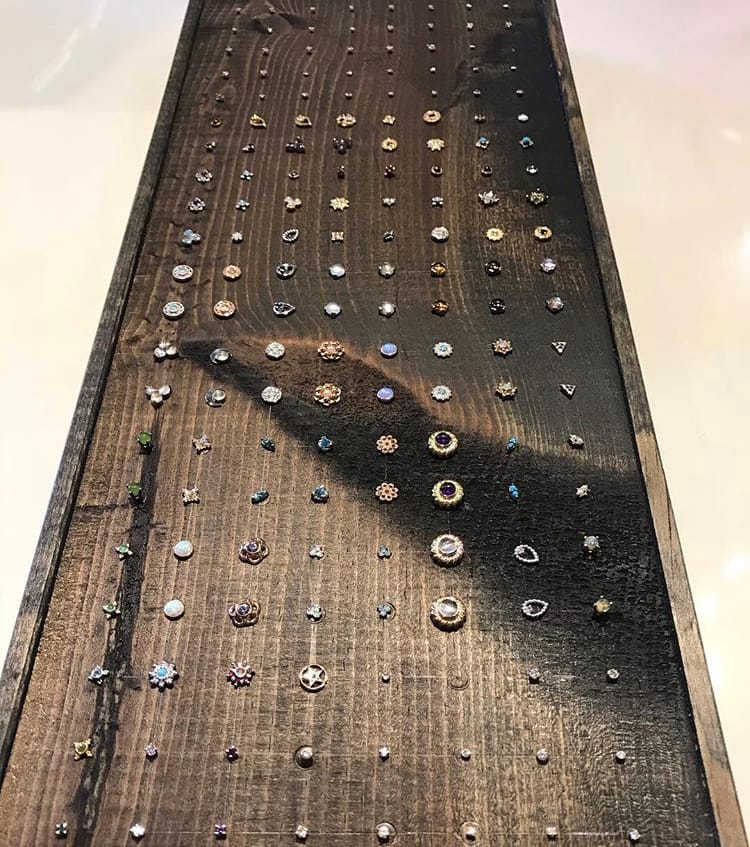 Threadless jewelry became well known and perfected by a brand called Neometal. This company's line has become our "classic" due to their outstanding quality, easy jewelry functionality, and popularity. How threadless jewelry works is the "design" or topper you choose for your piercing has a little pin on it that you bend slightly. This top fits into a hollow post and stays in place due to the tension from the bend on that pin! You can even adjust how tight you like your jewelry by adjusting the bend on the pin.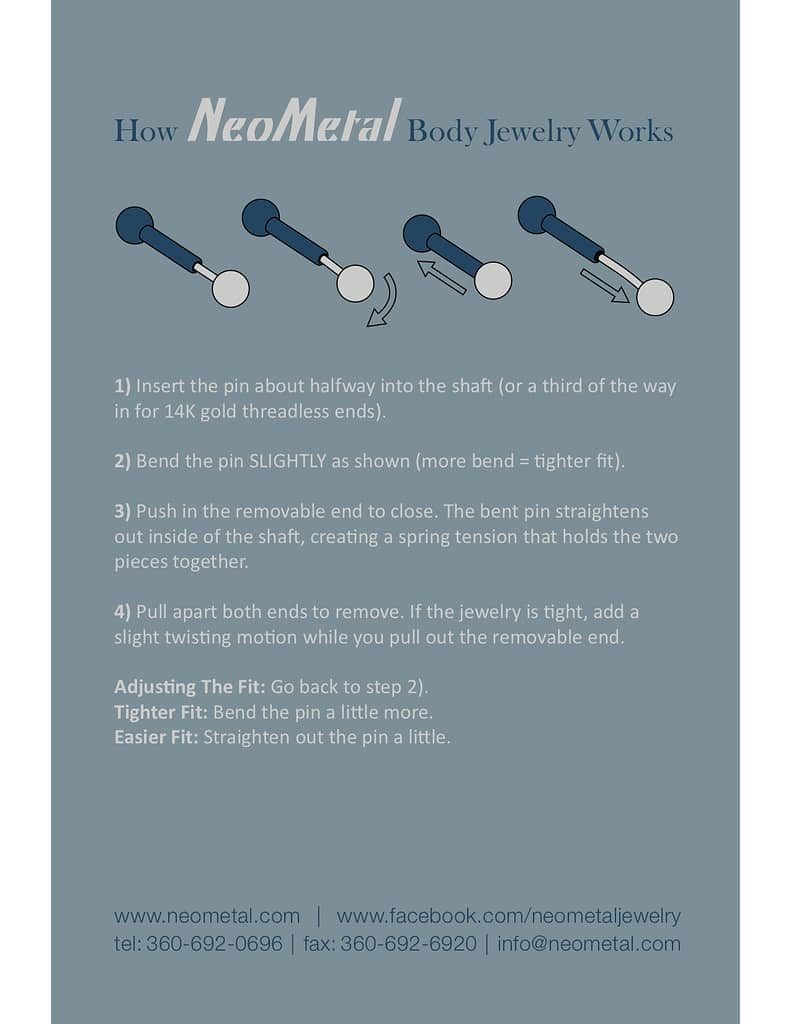 The great part about this style of jewelry is how universal it is. One top can fit 3 different gauge backs…We will rotate a piece from our lip piercing to our nostril then onto our ear! At the same time, you can buy one backing and a whole variety of different tops. It makes the most of your money with your jewelry purchases.
There is an endless variety of the types of tops you can get for your universal threadless backings! We carry both titanium and 14k-18k gold styles from tons of different brands. Some of our client's favorite designers include BVLA, Body Gems, Anatometal, and our in house line Moll Doll Designs. With this system it's a lot easier to change them on your own so you can change up your look day to day.
You are not limited to just labret styles either…Neometal also makes curved barbells and recently expanded to straight barbells as well! Their new straight barbells have been very popular for nipple piercings since they are so much easier to change or remove on your own. Just like the labrets, you can purchase one set of bars and all different gem ends to interchange! The great part about being able to purchase individual pieces is you can be creative- you can mix and match different stones for a multi colored look.
Threadless barbell and curve styles from Neometal
Threadless jewelry comes in a variety of price ranges. Titanium labret backs are $20 and tops start out at $15 and range up in price just depending on material, designer, and gem stones. You can make this style quite budget friendly or a way to treat yourself!
Browse threadless jewelry on our website or stop in to talk to one of our staff members about finding your new piece!
Thanks for reading! xox Molly